MARBLELIFE can restore your ceramic, porcelain, marble, granite or fiberglass bathroom or sink to its original condition for an affordable price.

We take pride in providing exceptional quality work. We can help you with your Jacuzzi tub, fix your ceramic tile, or install ADA-certified hardware for safety.

Have more questions about our company? Just ask us!100,000 jobs completed let's talk about your bathrooms needs!

SCHEDULE TODAY


BATHTUB & TILE REPAIR

Need an old ceramic tub restored to pristine and new again. Call MARBLELIFE TUB & SHOWER REFINISHING. We will repair and re-glazing your surfaces. Why replace when you can restore.

COMMERCIAL SERVICES

Apartments, hotels, and universities throughout the country realize the economical and time-saving benefits of reglazing services. and now you can, too.

ACCESSIBILITY FEATURES


We work with commercial and residential clients to achieve a beautiful bathroom look. Our services include:
Bathtub Refinishing and Reglazing
Tile restoration and reglazing
Commercial projects for hotels, apartment complexes
Antique tub and tile restoration
Accessibility (cut down tubs, grab bars and benches).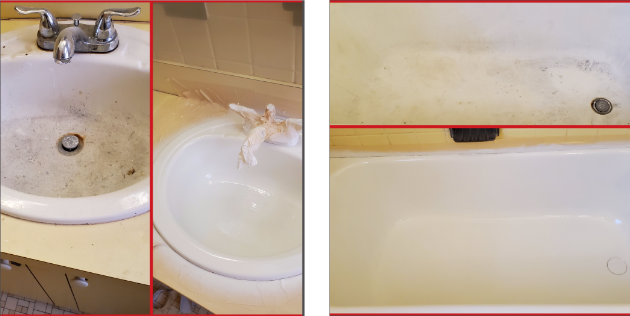 Bathtub & Tile

MARBLELIFE can rejuvenate your old tub and surrounds saving you time and money. Whether old, worn, and stained bathtubs, tile, and porcelain fixtures we can restore them insitu. No need to replace when you really want to maintain the look and feel but with an easy to clean pristine appearance. You are a phone call away.

Brilliant, mirror-gloss colors last and last. Our bathtub reglazing system actually bonds the color into the new finish. This unique process keeps colors strong and vibrant and resists fading like no other bathtub reglazing system. And the best part of all, you can choose any color you like currently available by plumbing manufacturers, or we'll match any color sample to create the color that is uniquely you.

Why Replace when you can Restore!

You might expect to pay an enormous sum to have your bathtub and tile completely restored.

If you've ever considered replacing your existing fixtures, you know how expensive that can be.

You also expect to lose access to your bathroom for days or even weeks during the remodeling.

MARBLELIFE can restore your tub and surround and return them to use within 24 hours.

Tired of that 1970's style or color – call us – we can update your color and décor without removing a tile, tub or surround, and deliver a beautiful new, easy to clean surface in 24 hours.

Whether doing it for yourself, for him, for her, in order to ready your home for resale, or your apartment for reletting we can get you where you want to be quickly, easily, inexpensively with no dust or debris. You are a call away.

Accessibility Features

Whether by accident or time, over time our accessibility needs can change. That doesn't mean one needs to move or that the results are not attractive. What is needed is a timely solutions from a company that has the ability to install new features without disrupting your existing bathroom design and feel. While you are at it, we can even update your surroundings if you wish.

MARBLELIFE offers a wide range of solutions to meet your changing needs

Bathtub grab bar installation Toilet grab bar installation Shower stall grab bar installation Benches Cut downs

Bathtub Safety

Slip-and-falls are the 2nd leading cause of injuries and deaths after car accidents. According to OSHA, more than 25,000 slip-and-fall injuries requiring hospital care occur daily. Most home accidents occur in the bathroom. MARBLELIFE can install a slip-resistant surface in your bathtub or shower, along with appropriately positioned grab bars to reduce risk and enhance safety and comfort.

Need to convert an accessible bathtub to an original standard bathtub? MARBLELIFE can help.

Bathtub accessibility becomes harder as we get older.

MARBLELIFE can install a cut-down tub system in combination with a step-in quality bench to enhance ease of entry making it easier and safer for seniors to enter and exit your shower or bath. Grab Bars

A quality grab bar installation enhances safety, comfort, confidence and independence when using a bathtub or shower. All grab bars installed are approved by the ADA (Americans with Disabilities Act).

Antique Tubs

MARBLELIFE can restore and re-glaze your old, antique bathtub and sink. Retain your historic feel without sacrificing look, feel or cleanability. The old world elegance continues to stand out. We simply restore it to its peak condition.

Our goal is to maintain the integrity, style and shape while updating hardware and finishes for a clean, new, ready to use elegant appearance.

Tile Tune-Up

Is your tub and tile looking old and worn? Is the grout and caulk around your tub and tile cracked, stained, or covered with mildew?

MARBLELIFE has been restoring stone and tile shower and bathroom surfaces to pristine new appearance for over three decades. If your shower is difficult to clean – we can restore its cleanability. When we leave, it will not only look new again, but be better protected from daily attack from soaps, shampoos, cleaners, mold and mildew.

MARBLELIFE can also provide guidance on what caused the original problem, how our services combat re-occurrence, what products will best maintain your surfaces without causing damage, and why stained grout will be a thing of the past… in your home or building.

Commercial Bathtub Services

Whether a home, an apartment, a hotel or a university, MARBLELIFE can assist you with your efforts to provide your next guest, visitor or tenant a clean, pristine, experience free of dings and problems. No one want to feel like they are staying in an old-rundown room, and why should they when within 24 hours any damage can be restored without undue loss of a replacement or remodeling time.

We offer ultimate slip-resistant protection that will not wear, mold, mildew, discolor, peel up, or be stolen—guaranteed!

MARBLELIFE bathtub treatment will make porcelain, fiberglass and acrylic surfaces cleaner and safer.

Call today for a FREE in building estimate.